BREAKING NEWS: LATEST LIMITED EDITION PRINT RELEASE! "EAGLES RISING"
In late 2017, the United States Army Warrant Officers Association commissioned military artist Todd Krasovetz to paint art and commemorate the 100 year anniversary of the CWOA. We want to afford you the opportunity to pre-purchase a print of USAWOA's latest painting titled, "Eagles Rising," Click HERE to pre-order your military art limited edition print. Respectively, Framed, Signed and Numbered Prints are also available, so hurry and order yours before they are gone!
Welcome To Official Military Art – T
he Finest Place To Shop For Military Art Online
What is Military Art?
Greetings, and welcome to Official Military Art.  You have found one of the finest places to shop for Military Art online and most noteworthy, we want to thank you and to all of those who serve, past and present.
We are often asked, most of all, what is it about the art at, " Official Military Art",  that's so powerful and inspiring? The answer, in short, is that the genre of military art found here is characterized by its subject portrayed, rather than by any specific style used to create it. 
Notably, some the artwork here has a spiritual undertone. Alternatively, there are multiple original works and commissions that depict, 100 year anniversary, war and battle scenes. Therefore, you will find the art you are looking for or can create it. Military scenes like this (left, tilted, "Wings of Hope"),  and images like this are one of the oldest types of military artwork in developed civilizations. Traditionally, dictators have always been keen to celebrate their victories and intimidate opponents through the visual arts. Ref: https://en.wikipedia.org/wiki/Military_art
Why Official Military Art?
To summarize, are you searching for the perfect gift or original military art to celebrate our 100 year anniversary, if so, your search is over. In short, if you are looking for a special gift, or original framed art print for your unit, command or retiree celebration, you have found it.
Most noteworthy, the original military fine art, paintings, and limited edition giclee (hand-painted) prints by Todd Krasovetz are the perfect gift to boost morale and brotherhood.
Why Military Artist Todd Krasovetz?
Greetings, and welcome to Official Military Art. Renown military artist, Todd Krasovetz has been producing quality military art for over 15 years. Also, Todd's often commissioned by Disney, ABC, Lifetime, US Army, Navy, USAF, Marine Corps, NYIT, Rady's Children's Hospital, and other private collectors around the world. If you really want the best-of-the-best military fine art around, you have found it. Just take a look below at the art gallery, and you will be amazed at the professionalism, level of detail and overall "feel" behind the art.
Important to note, due to his many commissions, many original paintings can be found in various military & veterans hospitals throughout the US.
Why Our Limited Edition, Hand Painted Giclees?
In detail, Giclee's (pronounced Gee'clay), a French term meaning to spray or squirt.  Consequently, the process is not the same as a standard desktop inkjet printer.  Therefore, traditional giclee prints, are much larger and more detailed. To clarify, our giclee prints, can be a little over a meter wide and are printed on high-quality archival papers.  To conclude, our Giclee prints printing process is the best way to produce archival reproductions of your fine-art and photography.
Do Giclee printers use ordinary printers inks?
The short answer is, no.  To clarify, we use the only brand name, special light-fast inks. Therefore, our inks are archival certified and if treated properly, will last a lifetime. In summary, it is the way the image is scanned that is different also. Additionally, the original is scanned directly on a drum scanner or large flatbed. If the image is larger, or cannot be taken off the stretcher frames, then a professional large format photograph must be taken of your works.
What kind of printing paper is used for Giclee prints?
Consequently, giclee prints here can be produced on any paper you choose. Alternatively, we have several specific archival papers and canvas to choose from. Hence, Giclée printing is a process that uses fade-resistant, archival inks and archival paper to print on high-end printers. Most of all, Giclée printing is often used by artists to make reproductions of their original two-dimensional artwork, photographs for resale while preserving the original.
Breaking News!
Recently, Walt Disney Pictures Commissions artist Todd Krasovetz to produce art for the set of a popular TV show. See below "Wings of Hope" on the set.  Live News Article
 Featured Comments:)
"Hello all, I have been working with artist Todd Krasovetz for many years, and it goes without saying, that he is the most professional Illustrator and artist I have ever worked with. That being said, the artwork and illustrations that he produces are above spectacular and the projects are always on-time and within budget. I strongly recommend him for any art, illustration, fine art project! Thanks, Todd for everything!  Until our next venture, can't wait to work with each other again."
Missy Ricker – Set Director "Army Wives" -ABC Studios, Hollywood, CA
Featured Military Art Gallery: Limited Edition Giclee (Hand -Inscribed) Prints & Original Artwork for Sale
Angel Waiting by military artist Todd Krasovetz- Order Your Limited Edition Giclee, Hand-Painted Print Today! Click Image Below
TOP SELLING MILITARY ART:  Titled "Wings Of Hope" Oil on Canvas by Todd Krasovetz. Click to Enlarge.
So, what is it about "Wing's of Hope" that is so unique, well, it is the name of the first original oil painting in a series of military art paintings commissioned by the Navy. In brief,  in Spring of 2001, before 911, the Navy & Marine Corps and the Command at the Naval Hospital Camp Pendleton, CA.  People often ask, "what is it about military artist Todd Krasovetz is so special",  our answer is simply,  the " quality of the artwork".
The overall theme, and what is the meaning behind these spectacular works of art, is the spiritual undertone & meaning in the paintings. Thus, Todd's often commissioned and his work proudly hangs at various Marine Corps, Air Force, Army, Navy Bases throughout the US. Additionally, his work can be viewed in several veteran hospitals throughout the US.
Renown artist, Todd Krasovetz's work has been commissioned by Disney, ABC, Lifetime, US Army, Navy, USAF, Marine Corps, NYIT, Rady's Children's Hospital of San Diego, and many, many others and private collectors around
" The visual art created by the passion for the art by the creator and primarily for intellectual and aesthetic purposes. It is up to the viewer to judge if it's beauty and meaningfulness are revealed" – Todd Krasovetz
To conclude, its the authenticity of the artwork thats a key factor that has allowed Todd Krasovetz to facilitate collections for individuals, as well as, Universities and Corporate clients.
Corpsman's Birthday Celebration
Recently, (image below)  the Naval Hospital Camp Pendleton's oldest Corpsman, Master Chief Kenneth Wilburn and the youngest Corpsman, Seaman Ivantristan Terrenate, cut a cake with Capt. Respectfully,  Lisa Mulligan, a Naval Hospital Camp Pendleton's commanding officer, was present during the Hospital Corps 118th birthday celebration, June 17. In the background, the "Wings of Hope" painting by Todd Krasovetz. U.S. Navy Photo by Mass Communication Specialist 2nd Class Yasmine T. Muhammad MC2 Yasmine T. Muhammad
Briefly, the hospital's staff along with friends and family came together Friday to mark the 118th birthday of the Hospital Corps.
Respectfully, during the ceremony, the painting "Wings of Hope" by local military artist Todd Krasovetz, unveiled (at the new location) in the pastoral care lobby.
Conclusion, the painting shows a Navy corpsman, who's shown pulling a wounded Marine to safety. Additionally, also shown, a sandy shore, and in the reflection of the water, the corpsman has angel wings.
In conclusion, military artist Todd Krasovetz's reputation as an artist is based on integrity, dedication and professionalism. If you want to learn more about the artist, or military art gallery, click HERE.
"GangPlank" by Todd Krasovetz
"Night Angels" by Todd Krasovetz
"Superior Support" by Todd Krasovetz
"Elite Engagement" by Todd Krasovetz
"Hero Ascending" by Todd Krasovetz
Angels Of The Sand Painting by Todd Krasovetz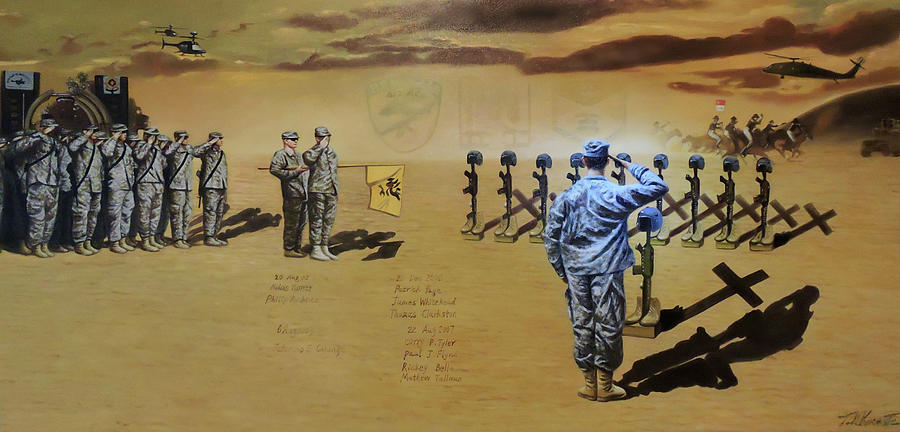 "Angels of the Sand" by Todd Krasovetz
"Hidden Wings"  by Todd Krasovetz
"Savior in a Storm" by Todd Krasovetz
"Wings Of Hope" B & W by Todd Krasovetz
"Angels and Brothers" by Todd Krasovetz
"Dark Angel" by Todd Krasovetz
"The New American Pride" by Todd Krasovetz
"Battle at Roberts Ridge" by Todd Krasovetz
"CASEVAC" by Todd Krasovetz
"Corpsman Up" by Todd Krasovetz
"Marine Corps Art Academy  50 Years of Excellence"   by Todd Krasovetz
"Dragon Dawn"  by Todd Krasovetz
"50 Feet On Speed" by Todd Krasovetz
"Anytime,  Anyplace" by Todd Krasovetz
Commission Todd Krasovetz NOW!
First of all, thank you for visiting Official Military. Most of all,  we are proud, and honored that you have viewed the artwork here  Please feel free, at any time, to contact military artist Todd Krasovetz about any commission ideas. Additionally, we would love to discuss your thoughts, ideas or art project needs, and get you your own, original art by the artist.
Hurry NOW, and order your Limited Edition Prints today, as there are limited supplies.  Also, please share any general comments, or share/like from the social media links below. Call 1.619.490.9985 or email wingsofhope@gmail.com for more information!